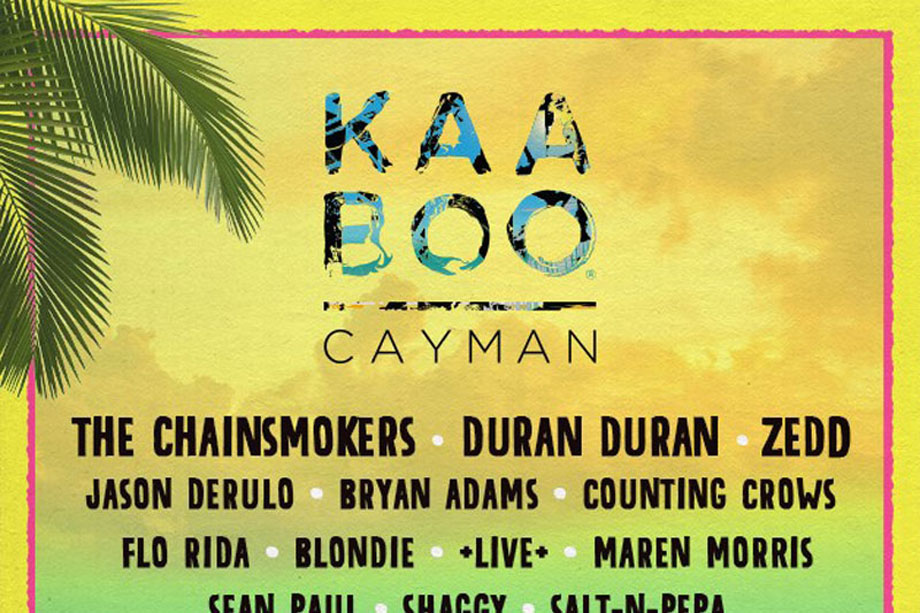 Grand Cayman, Cayman Islands (May, 2018) – KAABOO is proud to announce the 2019 lineup for its newest destination event, a multi-sensory experience in the Cayman Islands. KAABOO Cayman, set to take place February 15 + 16, 2019, welcomes internationally renowned EDM-pop duo The Chainsmokers andBritish new wave idols Duran Duran as headliners for its inaugural event overlooking the Caribbean Sea.
Kaaboo Cayman Music and Comedy Festival Debuts on February 15 +16, 2019
Russian-German producer and DJ ZEDD, Pop-RnB platinum-selling artist Jason Derulo, Canadian super-star Bryan Adams and American rock band Counting Crows, join a multi-generational lineup including Flo Rida, Blondie, +Live+, Maren Morris, Sean Paul, Shaggy, Salt-N-Pepa ft. DJ Spinderella, Blues Traveller, Los Lobos, and many more. Comic canons Wanda Sykes, David Spade, Jenny Slate, Darrell Hammond and more will headline KAABOO's HUMOR ME stage. A confirmed listing of KAABOO Cayman's music and comedy line-up is below.
"We are thrilled to reveal our inaugural line-up for KAABOO Cayman," says KAABOO's Chief Brand Officer, Jason Felts. "This signature line-up of multi-generational artists was thoughtfully curated to include a little something for everyone. As we extend our brand to paradise, KAABOO Cayman promises a weekend experience designed for the enjoyment of both locals and tourists alike."
Set on the shores of the world famous Seven Mile Beach in Grand Cayman, KAABOO Cayman will take place amidst a tropical climate where guests will enjoy a backdrop of crystal blue water and white sand beaches for an upscale, island getaway. With direct flights from London, KAABOO Cayman mirrors its San Diego counterpart, KAABOO Del Mar, in its plans to deliver an oasis providing the full spectrum of entertainment, aesthetics, and relaxation, imbibing the "Five Senses Under the Sun" brand motto.
"We are excited to welcome KAABOO to the Cayman Islands for its first international festival for both locals and visitors to enjoy," said Hon. Moses Kirkconnell, Minister of Tourism for the Cayman Islands. "The Cayman Islands' ease of accessibility to and from the U.S., coupled with our elite infrastructure and plenty of desirable lodging and culinary options, offers KAABOO the ideal destination for a unique Caribbean experience."
In addition to bucket list multi-generational music headliners and comedians, all guests can expect mouth watering culinary delicacies at PALATE; stunning live murals and exhibits in ARTWORK; massages, hot shaves, and spa services in INDULGENCES; and beach vibes and ocean access at the BASK Day/Night Club adjacent to Seven Mile Beach (18+).
A limited number of advance passes are on sale at https://www.kaaboocayman.com.
THATCH (General Admission) passes are currently £225 ($300 US dollars), while SILVER THATCH (VIP) passes are currently at £750 ($1062.50 US dollars). Additional VIP packages including ROYAL PALM £2540 ($3425 US dollars) are also available. Prices will increase once this allotment of advance price passes are sold out. At KAABOO, all guests receive a multi-faceted experience with access to: the indoor and seated HUMOR ME comedy club; an on-site Contemporary Art exhibit in the ARTWORK area plus large scale outdoor murals and installations on display; PALATE gourmet food and craft libation offerings; the relaxation oasis at INDULGENCES; and the BASK Beach Club. SILVER THATCH (VIP) passes include additional access to AMPLIFY zones which provide premier stage viewing areas, access to the Thursday Night AMPLIFY-only preview party, and more.
KAABOO Cayman Full Line-up:
The Chainsmokers
Duran Duran
Zedd
Jason Derulo
Bryan Adams
Counting Crows
Flo Rida
Blondie
+Live+
Maren Morris
Sean Paul
Shaggy
Salt-N-Pepa ft DJ Spinderella
Blues Traveller
Los Lobos
Magic!
The English Beat
Margo Price
Maxi Priest
Romain Virgo
Hirie
Transviolet
Stealing Oceans
COMEDY
Wanda Sykes
David Spade
Jenny Slate
Darrell Hammond
Natasha Leggero
Tom Green
Alonzo Bodden