The Haven's Got Talent finals staged at Primrose Valley Holiday Park attracted talented youngsters from all over the country for an exceptional showcase of singers and dancers.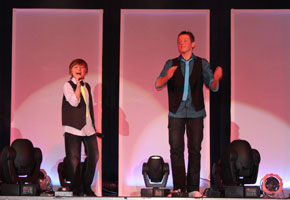 The event was the result of contests held at 10 key Haven parks during the six weeks of the summer holidays. Winners were invited back to Primrose Valley for a free break over half term to compete for the overall title and prize money of £1000.
Judges included top X Factor finalists Same Difference and Tommy Dee of Tommy Dee Entertainments who books thousands of visiting cabaret acts each year for Haven Holidays.
Overwhelmed by the standard of the performers, Same Difference said that winners Ryan and Greg Bradshaw who were just 12 and 15, reminded them of themselves when they started out! The two brothers gave a fabulous performance of 'Where is the Love' which had the audience dancing in the aisles.
Haven director Howard Rawlings said: "We didn't know we had so much talent at Haven, but we do now! This is certainly something for the future."
Haven's evening entertainment programme for 2011 includes stage-shows from their own Fun Stars, party dances and character shows for the kids, summer-time pantos, circus acts, top tribute bands and star acts from the Britain's cabaret circuit as well as action-packed days with kid's clubs, day-time shows, sports and organised activities.
Book early to get the best possible savings on all that Haven Holidays has to offer for next year. Currently you can save up to 50% on Spring and early Summer breaks with up to 25% savings on peak summer holiday dates. Prices start at less than £100 for four night break for a family of up to six people.
[phpbay]music festivals, 1[/phpbay]