Rated the #1 festival in Oulu Region by Kaleva Newspaper in 2009, the 5th anniversary Irish Festival of Oulu brings the city a wide range of cultural entertainment for all ages. Organised by The Irish Music Society of Oulu, the festival celebrates the richness of Irish culture including theatre, poetry, film, dance, and plenty of the best Irish music in the world.
The Irish Festival of Oulu – Fleadh Éireannach na Oulu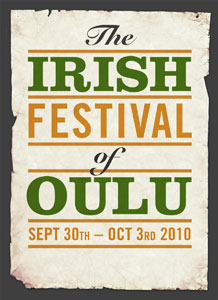 The scintillating festival line-up includes four top Irish acts: Misneach, a rhythmic traditional band from South Sligo; Beoga, one of the hottest Irish musical experiences today; Marianne Green, a singer-songwriter with a beautifully gentle voice; and the legendary Altan, arguably Ireland's biggest name in traditional Irish music. These artists will deliver a dazzling weekend of world class Irish music.
Cultural activities at the festival include the screening of Gabriel Byrne – Stories From Home, a revealing and evocative insight into the life and creative impulse of one of the world's leading actors. Director Pat Collins will be hosting a discussion session afterwards.  Aidan Dooley will present his award winning theatre piece Tom Crean – Antarctic Explorer about the adventurous Antarctic explorer brought to life in this dramatic and humorous solo performance. We also welcome the award winning Irish poet Harry Clifton to present his poetry at the festival.
The festival also features the incredibly talented local Irish bands The Brogues, Cascade and The Soap Pig. Come enjoy the numerous workshops, the popular weekend dance course, Irish films, storytelling, and daily traditional Irish music sessions open to everyone.
We welcome you to Oulu, Finland for the northernmost Irish festival in the world. The organisers would like to thank our supporters, sponsors, volunteers and fans for five years of dedication and fun!
Festival website – www.irkku.fi