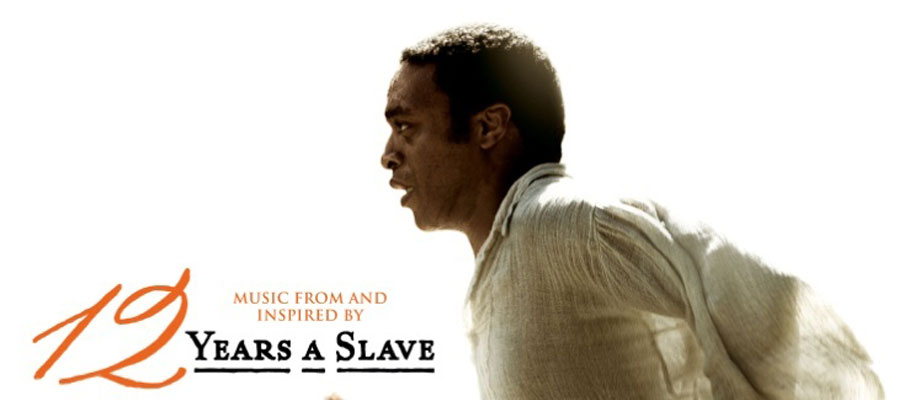 Columbia Records will release the soundtrack to the year's most anticipated new film, 12 Years A Slave. The soundtrack, MUSIC FROM AND INSPIRED BY 12 YEARS A SLAVE, will be released in the UK on 6 January 2014.
The MUSIC FROM AND INSPIRED BY 12 YEARS A SLAVE soundtrack was curated by 9 time GRAMMY®  Award winner John Legend and features a score by legendary film composer Hans Zimmer.
The 16 tracks featured on the soundtrack are songs of freedom, each recorded specifically for the film and inspired by the true story of Solomon Northup.
John Legend was tasked with creating an audio companion to the compelling film, and with the help of his Get Lifted partners, co-executive album producers, Mike Jackson and Thais Stiklorius, John enlisted a stellar line-up, of musicians, including Alicia Keys, Gary Clark Jr., Chris Cornell featuring  Joy Williams, Laura Mvula, Cody Chesnutt and Alabama Shakes.
Standout tracks include John Legend's soulful version of "Roll Jordan Roll," Alicia Key's stunning original track "Queen Of The Field (Patsey's Song,)" the Alabama Shakes heartfelt performance of "Driva Man," Gary Clark Jr's "Freight Train" and the beautiful duet "Misery Chain" from Chris Cornell featuring Joy Williams of the Civil Wars. The soundtrack also includes a rare performance of "Roll Jordan Roll" featuring the full cast, including lead actor Chiwetel Ejiofor.  Take a listen to John Legend's "Roll Jordan Roll" here: http://smarturl.it/RollJordanRollSC
"12 Years A Slave is a stunningly powerful film. I was so moved when I saw it. I felt every minute of it and was so inspired to contribute to the music of the soundtrack. This album brings together some incredible artists from different places and different genres who have all been touched by the film. When artists are inspired by great art, it makes us want to create. This album is the result of that inspiration."  – John Legend
"We chose a song called "Driva' Man." It is a sparse, brooding, slow-swinging jazz number.  There is no lightness in the music of "Driva' Man" because there is no mention of freedom in this song. The focus of the track is about an enslaved person reaching "quittin' time" while also trying to please the overseer to avoid getting beaten. After we watched 12 Years A Slave in our hometown of Athens, Alabama, we stumbled across this song a week later. It is a very simple song which is why we chose it to contribute to the soundtrack.  The two works, for a moment, take the audience into another time and place where you can imagine being denied your freedom: After which, one's own freedom can be better appreciated. 12 Years is one of the most important films we have ever seen and it is important to us to give back some of what the movie has given to us."  -Brittany Howard Alabama Shakes
"I was moved by this film and the story in a way that transcends any film experience I have ever had.  I was inspired to write a hundred different songs, but finally landed on one based on what I believe is an extremely important message I took from this man's journey. Compassion, basic human rights and love must be our priorities above race, religion or commerce. Every generation needs a reminder of that simple idea."- Chris Cornell
12 Years A Slave is based on an incredible true story of one man's fight for survival and freedom.  In the pre-Civil War United States, Solomon Northup (Chiwetel Ejiofor), a free black man from upstate New York, is abducted and sold into slavery.  Facing cruelty (personified by a malevolent slave owner, portrayed by Michael Fassbender) as well as unexpected kindnesses, Solomon struggles not only to stay alive, but to retain his dignity.  In the twelfth year of his unforgettable odyssey, Solomon's chance meeting with a Canadian abolitionist (Brad Pitt) forever alters his life.  12 Years A Slave premiered at the Telluride Film Festival on August 30, 2013.
A RIVER ROAD, PLAN B and NEW REGENCY Production, 12 Years A Slave is directed by Steve McQueen (HUNGER) and written by John Ridley (RED TAILS).  Producers are Brad Pitt (MONEYBALL), Dede Gardner (EAT, PRAY, LOVE), Jeremy Kleiner (WORLD WAR Z), Bill Pohlad (TREE OF LIFE), Steve McQueen (SHAME), Arnon Milchan (BROKEN CITY) and Anthony Katagas (KILLING THEM SOFTLY); executive producers are Tessa Ross (SLUMDOG MILLIONAIRE) and John Ridley.  The filmmaking team includes Director of Photography Sean Bobbitt, BSC (HUNGER, SHAME); production designer Adam Stockhausen (MOONRISE KINGDOM); editor Joe Walker (HUNGER, SHAME); Academy Award® nominated costume designer Patricia Norris (THE ASSASSINATION OF JESSE JAMES BY THE COWARD ROBERT FORD) and Academy Award® winning composer Hans Zimmer (INCEPTION, THE DARK KNIGHT RISES).
MUSIC FROM AND INSPIRED BY 12 YEARS OF SLAVE TRACKLIST:
1 Tim Fain – Devil's Dream
2 John Legend – Roll Jordan Roll
3 Gary Clark Jr. – Freight Train
4 Tim Fain and Caitlin Sullivan – Yarney's Waltz
5 Alabama Shakes – Driva Man
6 David Hughey and Roosevelt Credit – My Lord Sunshine (Sunrise)
7 John Legend feat. Fink – Move
8 Hans Zimmer – Washington
9 Gary Clark Jr. – (In The Evening) When The Sun Goes Down
10 Alicia Keys – Queen Of The Field (Patsey's Song)
11 Hans Zimmer – Solomon
12 Laura Mvula – Little Girl Blue
13 Chris Cornell feat. Joy Williams – Misery Chain
14 Topsy Chapman feat. Chiwetel Ejiofor and Cast – Roll Jordan Roll
15 Tim Fain – Money Musk
16 Cody Chesnutt – What Does Freedom Mean (To A Free Man)