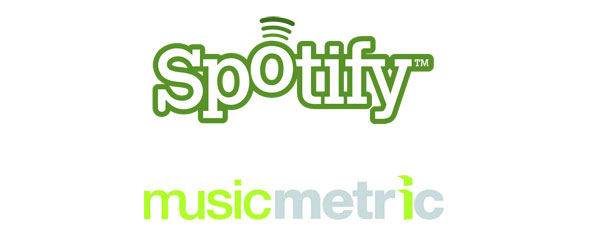 Musicmetric has announced a deal with Spotify, the world's most popular music streaming service, that will allow its users to benchmark Spotify data alongside social media trends and file-sharing information.
Musicmetric Pro, Musicmetric's premium analytics tool, will integrate Spotify data allowing[AB1]  it to be analysed alongside other data streams. The significance of this is how streaming data can be used by the music industry to better leverage revenues.
For the first time, anyone with Spotify Analytics can now access all their data through Musicmetric, meaning streaming data can be laid on top of social media trends, BitTorrent consumption and sentiment for over 700,000 artists captured by Musicmetric.
This means that industry professionals will be able to aggregate all key data streams in one place, seeing the relationship between their marketing campaigns and social media activity, file sharing and Spotify consumption.
Spotify has over 20 million users globally, with more than five million subscribing on a monthly basis. The sheer volume of its users mean that access to the data will be of immense value to Musicmetric's customers.
The tie-up gives Musicmetric access to Spotify's most granular API, allowing Spotify users' historical and real-time listening behaviour to be compared alongside Musicmetric's own unrivalled data set.
Musicmetric Pro users will also soon be able to compare Spotify artist data against global or market Spotify data.
Last October, Musicmetric published the Digital Music Index (DMI), an in-depth report on the digital music landscape. Musicmetric developed an app with the BBC enabling fans to find the artist with the highest BitTorrent downloads locally by UK postal areas.
The DMI found clear evidence that less file-sharing occurred where music retail and streaming sites existed, implying that music fans would prefer to pay for their music rather than obtain it illegally where it was possible to do so.
Revenues from streaming sites like Spotify are increasingly significant for artists, which means that comparing consumption information alongside other data is increasingly vital for music professionals.
Musicmetric, based in London and Los Angeles, is the world's leading digital music analyst, working with record labels, managers, radio stations and music marketers to benchmark and compare artist performance in real time. Yesterday, it announced the successful completion of a new funding round with £3m ($4.7m) of new investment coming from Imperial Innovations and Pentech Ventures.
Marie-Alicia Chang, co-founder of Semetric, owners of Musicmetric, said:
"As the world's leading streaming music site, combining Spotify's data within Musicmetric Pro gives us a significant advantage. Our detailed BitTorrent data sphere already eclipses anything available in the market place, and the addition of legal streaming information will enable our clients to benefit from the most advanced music analytics available anywhere.
"Our first Digital Music Index showed the prominence of Spotify was on the rise, with a clear correlation between increased legal streaming and decreased file sharing. With such a centric[AB2]  role to play in the future of the digital music industry, it is essential that Spotify data can be easily compared with other important trends, and we very much look forward to building on our relationship over the coming year."
Will Hope, Label Relations Director from Spotify said:
"Musicmetric offer the industry an easy-to-view window in the complexities of digital music consumption, and we're delighted that their users can now integrate Spotify data and use it to help generate sales and build further success. Spotify is growing quickly; we now have more than twenty million users across 17 countries, and therefore our listener data is invaluable to the music industry. We are confident that by allowing labels and managers to clearly see the links between streaming, sales and online interaction, that we can work even more closely withrightsholders to drive more listeners and increase revenues for artists on the service."