NuTrend Promotions present Two of Cape Town's Top Bands who will perform at the Italian Club in Rugby on Saturday 19th June 2010 from 18h00. Tickets are R100 per person and will include a pasta buffet, secure parking and drinks at club prices.
Back to Back comprises Kenny Bird (lead guitar and vocals); Angelo Simone (drums and vocals); Peter Alcock (keyboards and vocals); Clive Newton (bass and vocals); Madeleine Ginn (vocals and rhythm guitar) and Bruce Clayton (vocals). The band has a large repertoire of old and modern music in many forms and genres that is guaranteed to get your feet stomping.
Beat-Route which consists of Myles Wakeham (vocals); Dave Evans (drums); Dave Richards (keyboards and vocals); Jock de Coito (lead guitar); Chris Harris (bass and vocals). The band plays an A to Z blend of rock music ranging from THE ANIMALS to ZZ TOP!
AS TICKETS ARE LIMITED and the evening is intended to have fun, meet friends, listen and dance to good music and enjoy some real Italian pasta, we would recommend that you secure your seats by booking as soon as possible.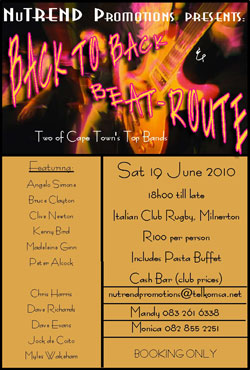 For bookings or more information, please contact:
Mandy 083 261 6338 – nutrendpromotions @ telkomsa.net
Or
Monica 082 855 2251 – monica.l @ mweb.co.za