Do you aspire to be a great DJ?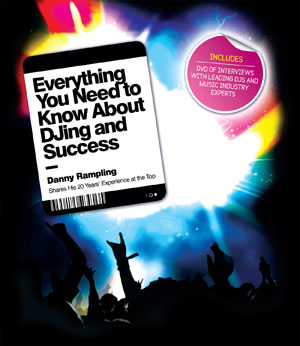 Would you like to be successful in any walk of life?
Do you want to propel your DJ'ing career right to the very top?
Now, drawing on his twenty years of experience as a leading international DJ, Danny Rampling shares the secrets that have made him one of the most revered names in his industry – secrets that will help you become more successful in your music, your business and your life.
Step-by-step, making use of personal anecdote and a wealth of easy-to-follow diagrams and examples, this jargon-free guide will explain:
*how to choose and set up your equipment
*basic to advanced DJ'ing skills, including beatmatching,FX,EQ and scratching
*the essentials of setting up and promoting gigs
*producing mixes and cutting records
*mobile and radio DJ'ing
*the financial, legal and commercial need-to-knows that will transform you musical talent into business success.
Finally Danny outlines his profound belief in the power of positive thinking, delving behind the mystery of success to reveal the life lessons that will enable you to turn your dream into a reality.
Danny Rampling is a leading international and former Kiss FM and BBC Radio 1 DJ. He is widely credited as one of the founders of the UK's rave and club scene.