From the 17th to the 21st November 2010 several hundred musical venues in Paris will offer a variety of club and concert events with a special pass-style ticketing system.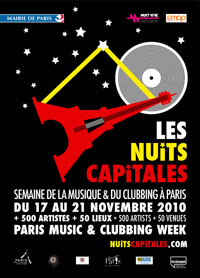 Les Nuits Capitales (the Capital Nights) is being promoted nationally and internationally with the sponsorship of the Paris Town Hall, the Paris Tourism Office and the Regional Committee for Tourism.
Les Nuits Capitales will illustrate the wealth and diversity of events in Paris with concerts from 8 pm – midnight and club events from midnight – dawn.
Each event will be composed of quality programming. The ticket pass offers concessions and other advantages in all participating venues. The ambition is to showcase Parisian evening events as the epicentre of European nightlife for one week.
Les Nuits Capitales event is a positive response to the recent debate on Parisian nightlife and will hopefully register itself as a regular event in the calendar and will be a continuation of the vision set out by the Etats Généraux de la Nuit taking place on the 12th – 13th November 2010 looking at the organization of Nightlife in Paris. The strong synergy between these two events will assure that there is strong media coverage in the specialised and non-specialised media in France and in Europe.
[phpbay]music paris, 1[/phpbay]
Venues
The venues participating encompass everything from the grand and prestigious to the smaller music
cafes, the famous mythical clubs to the cult underground ones. Large or small, new or historic, Les
Nuits Capitales will bring together this vast diversity and unveil the richness of the night culture and
musical practices in Paris.
Altogether the venues will have the capacity to offer entertainment to 20,000 guests every evening.
Live music venues
• ACP Manufacture Chanson (50 places) : french songs
• Alimentation Générale (300 places) : contemporary music
• Baiser Salé (80 places) : jazz
• Cabarand Sauvage (1200 places) : brasilian music
• Café de la Danse (500 places) : electronic music (Telerama Dub Festival)
• Crazy Horse (250) : cabaret
• Duc des Lombards (140) : jazz
• FGO (300) : contemporary music
• L'Entrepôt (460) : contemporary music
• La Dame de Canton (150 places) : contemporary music
• La Maison des Métallos (400 places) : world music
• La Pêche (150 places) : hip hop
• La Reine Blanche (120 places) : contemporary music
• La Scène du Canal (150 places) : hip hop
• Le Réservoir (400 places) : rock
• Le Sentier des Halles (120 places) : contemporary music
• Sunsand / Sunside (100 places) : jazz
• Le Triton (180 places) : jazz
• Les Trois Baudands (130 places) : contemporary music
• Mains d'oeuvres (500 places) : contemporary music
• Maison Populaire and Théâtre Berthelot (240 places) : music & dance
• Le Studio de l'Ermitage (250 places) : jazz, tango, bal